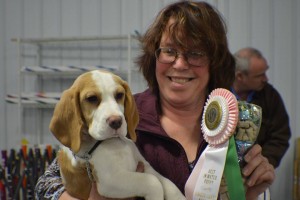 Photo credit – Terri Frenia
Finger Lakes Kennel Club Inc.'s annual B Sanctioned Match Show was held Saturday, March 5th at the Paws for Thought Canine Events Center – thank you all for coming out – we appreciate your entry and hope you enjoyed the new venue!  Please visit our Facebook page and check back here for more photos.
The next show is right around the corner in Syracuse on Saturday, April 2nd.  The Salt City Cluster is 5 days this year – hope to see you all there!  Premium list is available on Rau Dog Shows website – entry closes at noon on March 16th.
http://www.raudogshows.com/upcoming-shows/