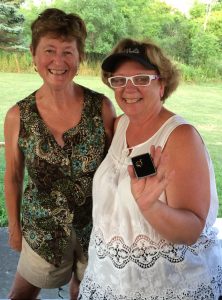 Mona joined the Finger Lakes Kennel Club in 1995.   Over the past 20 years, Mona has served in many areas, as a member of the FLKC.  She has served on many different Committees, participated in Club sanctioned public education projects, worked at Match shows and Point shows, in several different capacities.  Over the years she has taken part in the club events at the Ithaca Mall & The Meet the Breeds at Cass Park.
For at least 15 of her 20 years, Mona served as the Secretary for the FLKC.  She has also been Show Chair, Assistant Show Chair, Hospitality Chair, Chief Ring Steward & she even tried helping at Earth Dog.  She gives, tirelessly, of her time & energy, to the Spring & Fall Point shows, every year.  She has handled the camping for the Fall Point show,  which is a huge undertaking in itself!  Mona is always ready to help, whenever help is needed!!!!
Mona is still very active in the FLKC and currently is serving as the Club Treasurer. 
Mona raised & showed Akitas for many years.  She now shows  Cardigan Welsh Corgis.  Mona is also an AKC Judge.
President Ereign Seacord presented Mona's Lifetime pendent.
Congratulations Mona!!!!!!!